Counselling for Women by Women
DDWA has offered "counselling" support since they first got a phone then a space with two seats. One to One support for women who want to talk, but who do not require refuge, has been part of our service, within West Dunbartonshire, for over 25 years.
As part of responding to what women have said they want from us, within the past 10 of these, this has been developed into a Counselling service, which abides by BACP (British Association for Counselling & Psychotherapy) Code of Ethics.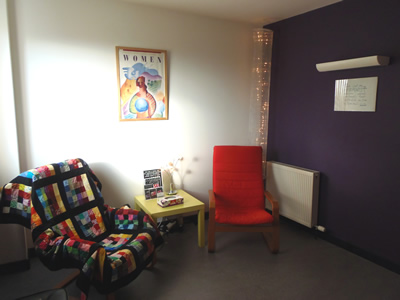 Our Counselling service is firmly rooted within Womens' Aid ethos, which is based on a Feminist analysis of gender based violence. This means that we see the connections between the distress women feel and women's life experiences, within the context of wider social and political systems of inequality.
Many women feel that they are going "crazy" when trying to adapt to intolerable expectations of what is "normal" and blame themselves for what has happened/is happening to them (even if they were a very young child when it happened). This goes on in every culture, across economic backgrounds, throughout the world. There are connections with all experiences of violence against women and children/young people (e.g. prostitution and pornography).
Talking about what has happened to us in the past, and breaking the silence about what is going on now, cannot change what has happened to us, but can help us realise that we are never to blame for another's abusive behaviour. During counselling, we can process loss and bereavement, as well as abuse, and change how we feel. We can look at what kind of relationships we want and move towards changing our lives.
We offer a free and confidential Counselling service, where women can speak to another woman. You can speak to us for an hour a week for as long as you want (this will be reviewed with your counsellor).
You do not need to be referred on by anyone, as long as you are a woman who has experienced domestic abuse.
You can also call us if you have experienced historical abuse (including childhood sexual abuse) even if you no longer have contact with the perpetrator.
01389 751036
Here are some comments from women who have used our counselling service within the past 5 years, about how they have experienced it: